History of Holy Cross Church
Part I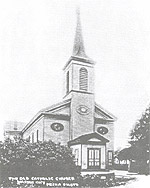 The early history of Holy Cross parish can best be understood by imagining Catholic Point as of a thick wilderness along the entire St. Clair River. During the 1600's, French trappers traded with Indians, supplying fur trade through Quebec to the European continent. Two Sulpician missionaries traveled with these trappers in 1670 and visited Indian villages along the river. Fr. Gallinee, one of these missionaries, was an engineer who drew the first map of the area based upon physical characteristics he noted.
The city of Detroit began in 1701 with the arrival of Antoine de la Mothe Cadillac. By the end of the 1700's, nearby settlements supplied Detroit's needs. In 1796, Fr. Michael Levadeaux became the first pastor of St. Anne's parish in Detroit and was also given responsibility for missions. It is known that he traveled by canoe to visit settlements and would have stopped at the one south of present day Marine City.
Fr. Gabriel Richard joined his friend Fr. Levadeaux and became well known for his work among the Indians and in the Michigan Congress. Fr. Richard's contribution to our parish is his acquisition of the land known as Catholic Point.
According to norms established by the diocese in New York, which included most of Michigan, no parish could be founded unless it owned 200 acres of land and a house of equal value. Fr. Richard therefore in 1824 purchased a peninsula formed by the intersection of the St. Clair and Belle Rivers. He paid $82.33 for land in trust for inhabitants of the parish of St. Agatha. The grant was signed by President John Quincy Adams. (The original is in the archives of the Archdiocese. Copies are filed in the Holy Cross rectory). The first church, however, was not built on the Point.
In 1826, George Cottrell built a small log church on his farm south of Marine City, probably where Avalon Beach is now. Mr. Cottrell ordered from France a bell for the church which was called St. Felicite. The bell remained in use in other parish buildings until the 1960s. It is now stored with other historical church items.
St. Felicite served as headquarters for missionaries who traveled the river area. The first resident priest was Fr. Andreas Viszoczky, a Hungarian missionary. Fr. Viszoczky kept a ledger during his stay from 1833 to 1835. Written in Latin, the "Book of Baptisms, Marriages and Deaths of the Church of Sainte Claire", existing in Sainte Claire and the Michigan Territory list the first baptism in 1833, George, son of Lambert Miny and Ursula St. Bernard. The first marriage in 1834 was Tou-saints Chortier and Victoria Chocois. In 1835, Fr. Viszoczcy was sent to serve Indian missions near Grand Rapids.
Fr. Frederick Baraga took his place for four months. He housed a seminarian, Mr. Kelly, who operated a school at St. Felicite. The teacher received four shillings a month for each of his 18 students. He spent one week at the rectory and the three other weeks of the month with parishioners to whom he paid board of $ I per week.
When Fr. Baraga left to work with Indians near Lake Superior, the river district had no resident priest. In 1837, the river flooded to an unprecedented height. The log church was washed off its foundation and destroyed.
In 1850, Fr. Kilroy, the most famous of missionaries in the river area, took up residence in the home of James Fisher in Marysville. Fr. Kilroy's territory stretched from Algonac to Pointe aux Barques in the Thumb. He made his visits by horseback or canoe. A reputedly holy man, he traveled at least an hour between his two Masses on Sundays.
Fr. Kilroy spent 26 years in the river area. He recorded, in the ledger begun by Fr. Viszoczky, baptisms, marriages and deaths. The book was carried with him. In 1853, Fr. Kilroy moved his residence to Palmer (St. Clair) where he had built a church. The ledger is now in St. Mary's parish archives.
Many immigrants had come to the area in the early 1800s. In 1846, a rectangular frame church 60 feet long and 35 feet wide was built on Bridge Street about where the priest's garage now stands. It was called St. Agatha Church.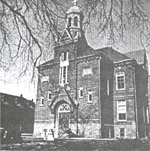 Until 1855, itinerant priests from Detroit served the parish. They would travel for a month or more on a circuit, living with Catholic families along the way and performing baptisms and marriages as they traveled. The first resident pastor was Fr. Mary Paul Wherle. He was a physician as well as a priest. Little is known of his ministry, but a picture of him is in the parish archives. In 1859, Fr. Wherle was replaced by Fr. Francis VanCampenhaut who remained for six months.
During the pastorale of Fr. August Lambert (1859-1875), the population of the area swelled greatly. Until 1863, St. Clair, which was without a resident pastor, was a mission of St. Agatha's. In 1864, Fr. Lambert enlarged the church, adding 17 feet to the front and installing a steeple. Two years later, side wings were added making a cruciform structure which was dedicated to the Finding of the Holy Cross. A new, larger bell (now in the present church) was commissioned.
The interior of the remodeled church was designed by parishioners, many of whom had been European artisans. A hemp matting covered the floor. Painted Stations of the Cross were framed in dark wood. A hand carved altar railing contained emblems of a lamb and pelican. (It is stored in the parish). The altar, which was elaborately carved with side niches for statues, was used by the parish until 1966. Statues of the Blessed Virgin (in present use) and St. Joseph were placed on pedestals outside the sanctuary. Pictures of the interior and exterior of this church as in the parish archives.
Fr. Joseph Lambert, the third resident pastor, built the first rectory in 1859. It was a frame, Colonial style, shuttered building located on the approximate site of the present rectory. The brick rectory was built in 1885 by Fr. Joseph Meder, one of the pastors who followed Fr. Lambert. The building has been remodeled several times.
Fr. Lambert also opened the first school, moving a no longer used Baptist church building to the corner of Bridge and South Main Streets. There were two classrooms in this building, one up and one down. At the rear of the building was housing for three IHM sisters. The 23 boys and 40 girls enrolled in September grew to 58 boys and 75 girls by December of that first year of operation. The bell from the log church was hung in the school belfry. In 1898, the roof was raised to add four feet to the upper story. In 1871, Fr. Lambert built a convent south of the church where the grade school now stands. This building served the teaching sisters until 1928 and was later moved twice. It is the gray house on the west side of Water Street just beyond the intersection of South Main Street.
The St. Michael's Benevolent Society, perhaps the most important early parish organization was established in 1872 for all men aged 16 to 45. Membership was $5 a year and included sick benefits of $4 a week for twelve weeks and $75 at death. This society, which phased out in the early 1900s, was responsible for the large window on the south side of the church.
By 1890, the school population had outgrown the Bridge Street building. A new, brick school was erected on Water Street south of the first convent. The building was three stories high and had brick partitions. In 1897, tuition was .25 per month for one child and .50 per family. There were 344 children attending. A double open stairwell at the front of the building eventually caused fire marshals to demand expensive alteration which resulted in the building being razed in 1960.
Holy Cross Church was built in 1903 by Fr. Peter Ternes to accommodate the ever growing membership of the parish. A bid of $33,333.33 made by Matthew Sicken, a shipbuilder and active member of the parish, was accepted. An override of $12,000 in actual construction costs was paid by Mr. Sicken. Many parishioners also donated items such as leaded windows, Stations of the Cross and the heating and lighting system. A tracker organ was purchased from St. John's Episcopal Church in Detroit.
By 1927, there was need of a larger convent to house the many IHM sisters who staffed the schools. The brick building on Water Street contained 13 bedrooms, a community room, kitchen, dining room, activity room, two parlors where music lessons were given and a chapel.
Fr. Ternes, who was pastor from 1895 to 1933, serving during a time of tremendous growth. He was responsible for many parish buildings and was very active in the community. Following his death, Fr. Dennis Hayes was pastor for five years. He was succeeded by Fr. Walter Rottach, whose long tenure (1939-62) marked another era of expansion and building.
Shortly after his arrival in 1939, he commissioned a repair and redecoration of the church. Since 1922, the first school building on Bridge Street had been used as a high school. It had become outmoded and overcrowded and did not meet safety standards. In 1950, the brick building on Water Street, now occupied by Cardinal Mooney High School, was built. In 1959, when the grade school building could not pass fire inspection, the old building was razed and the new elementary school built. Again, the old building on Bridge Street was used while the new building was in progress. Before the new elementary school was completed, Fr. Rottach suffered a severe stroke and was never able to resume his pastorale.
*Further details on the period covered in Part I can be found in a History of Holy Cross Parish by Lucile Heinkelmann published in 1971.
Part II
During his initial illness, Fr. George Browne, assistant, became temporary administrator. In June, Fr. James Shannon was appointed permanent administrator.
Fr. Shannon faced a daunting challenge in his first pastorale. Having to build a new grade school had been an unexpected expense for the parish. There was no financial savings on hand for it. A subscription drive for $222,320 had been undertaken by Fr. Rottach and the foundation and super-structure were in place at the time of his stroke. 46% of the pledges had been paid.
Before school opened in September with half days for the grade school, again housed in the old building on Bridge Street, Fr. Browne was replaced by Fr. Joseph Grzelak. The bulletin announces, tongue in check, that "He can hear Confessions in Polish and Fr. Shannon in Italian or German, in case of need."
The grade school building opened October 31. By then, 55% of the subscriptions had been paid. The total coast had risen to $280,000. Erasing that debt created a problem for several years. All other improvements to parish buildings done during that time were underwritten by donations or the establishment of special funds.
Parish statistics for 1960 are: 89 infant baptisms, 9 adult baptisms, 86 First Communions, 22 marriages, 27 deaths, 429 grade school students, 201 high school catechism. Registration in the grade school was closed because of crowding except in 5th and 8th grades.
In 1961, the old parish hall (the original St. Agatha's Church razed. The sounding board above the pulpit was removed. A new heating plant was installed in the church.
In September, Fr. Grzelak was replaced by Fr. Arthur Duguay who became ill and left after one month. Fr. Joseph Blinstrub was appointed as assistant. There were 12 teaching sisters at Holy Cross. In 1965, Fr. Blinstrub was reassigned as principal of Port Huron Catholic High School. Fr. Lawrence DuCharme replaced him.
The first serious discussion of building a gym was made in 1968. Since there was a deficit of $14,000 from prior years and the collections were running only between $1,600 – $1,800 a week, the gym was tabled. Some changes in the Church had produced unexpected problems. As the numbers of sisters declined, the expense of operating the schools using lay teachers, put severe financial stress on parishes. A fund drive was organized in 1969 to stabilize Holy Cross finances and to add a wing to the high school building. At this time, the Parish Council was reorganized according to new guidelines.
Fr. Rene Demarais joined the pastoral team at Holy Cross in 1969. He stayed until the following year when he became chaplain of the Newman Center in port Huron. Fr. DuCharme began Inquiry Classes for Catholic and nonCatholic adults who wanted to learn more about Catholicism. In October of 1969, the parish commemorated the 100th anniversary of the IHM sisters at Holy Cross.
By 1970, financial problems had burgeoned. It was determined that $3,000 would be needed in weekly collections in order to keep both schools open. 1,100 families were located by a census but only 539 accepted envelopes. Since the new K of C hall had been built, an Achatz-catered chicken dinner was held which netted $5,045. That success spurred organization of the first Harvest Festival in 1972. (Dinner for adults was $2.25.)
Pime priests gave the parish temporary help through that year. During 1973, three assistants, Fr. Casimir Butkus, Fr. Thomas Schmitt and Fr. Jude Ellinghausen, served short terms as associates. For the following three years, weekend help of Msgr. Victor Lorenz and Fr. Edward Majeske sufficed.
Problems other than shortage of priests continued through the 1970s. Collections fell below $3,000 weekly although the goal had been raised by $500, then $1,000. A major donation in 1974 provided temporary relief. This bequest from the estate of Thomas and Irene Garrick gave $35,000 for the Holy Cross schools, church, convent and cemetery and established a $50,000 Scholarship Fund. Part of the bequest paid half the cost of repairs to the south steeple, pointing of masonry in the church, replacement of the north steeple roof and repair of leading in stained glass windows.
Holy Cross celebrated its 150th anniversary in May of 1976. There was an added reason to celebrate when the McGregor Fund made a $25,000 contribution toward restoration of the historic Tracker organ in the church. Funds had been collected since 1972 with the intention of making only basic repairs. The McGregor money and a matching amount donated by others allowed repair of the loft and wiring, restoration of the wind system, case, blower and the addition of materials to bring full orchestration to the system. When all expenses were paid and the fund discharged in 1985, the total cost came to $72,624.
In August, 1976, a familiar name reappeared on church records when Fr. George Browne returned as associate. The following year, when Deacon John Schaible began service and Fr. Harry Paul spent half his retirement time in residence, Holy Cross had an unprecedented five ministers on its team.
The cemetery chapel, a gift of Dr. and Mrs. Merle Beauchamp, was built in 1977. A $12,000 bequest from the estate of Carl Heinkelmann paid for paving of the cemetery roads and added pillars at the entrance.
The parish received a Historic Site designation in 1978. The first Ecumenical Prayer service at Holy Cross occurred in 1979. As the new decade began, the first Eucharistic ministers were inducted. In September, 1981, Fr. Shannon retired and was joined by Fr. Paul. Fr. Browne became pastor of St. Angela's parish in Roseville. Holy Cross parish was faced with an entire change of ministry.
Fr. Donald Bartone was a retired military chaplain new to pastoral service. He came to a parish with a major project underway. The south steeple and bell tower of the church had earlier shown signs of rotting wood and crumbling masonry. In the month before Fr. Shannon's retirement, work had begun on replacing the floor, repairing brick and providing a new metal cover for the tower. A fund had been established.
Fr. Don made several initial changes in the business operation of the parish. A secretary and a bookkeeper were hired. An answering machine and all building telephone system was installed. The interior of the rectory was repainted and a lavatory in the corridor between the church and rectory was opened to the public.
Fr. Don also added several new traditions. He began the Blessing of Animals and held a Memorial Day Mass at the cemetery chapel. He offered vespers on the Sundays of Advent and introduced a Giving Tree during the Christmas season. The number of Ministers of the Eucharist increased with the addition of five sisters stationed at Holy Cross and several lay people. The first parish blood drive occurred in 1983.
During the summer of 1983, Fr. Nick Zukowski, a newly ordained priest on leave from theological study in Rome, became associate pastor. Parishioners were quickly exposed to his enthusiasm and sense of fun, as evidenced by his frequent use of a puppet in liturgies for school children. He formed a young adult group called GROW and began an adult study course called Journey.
Other changes occurred during 1983. In the fall, the old school on Bridge Street was finally razed after 114 years of use by the parish. Many people who had attended the school salvaged bricks as mementos.
The D of I funded the cost of a handicapped ramp at the southwest entrance of the church. Two buses were purchased to provide out-of-area transportation to Holy Cross Schools. There were 255 grade school and 194 high school students enrolled for the 1983-84 school year.
In 1984, a new program, God's Plan for Church Support, was implemented. Money from the Harvest Festival was used to restore the Stations of the Cross. A surplus from CSA collections paid for improvements to sidewalks and parking lots. The cross on the north tower was replaced.
In April, Fr. Don suffered a mild heart attack. A 6 week rest was ordered. Upon his return to full duty, Fr. Nick was replaced by Fr. Clyde Pigeon, an Oblate graduate who had served in the Army and later taught in public schools for six years. Fr. Clyde continued the Journey classes begun by Fr. Nick and also started an adult and convert Inquiry Class. Fr. Clyde served one year at Holy Cross. During that year, a complete sorting and filing of parish archival material was done.
Fr. Kris Bartos, who replaced Fr. Clyde, was a recently ordained Warren native who brought to Holy Cross an enthusiasm about Marine City and the parish schools. During his first months at Holy Cross, he planted flowers and shrubs around the church and rectory. He taught classes in high school and was a vibrant fan at sports and school events.
Both the reassignment of Fr. Bartos and the retirement of Fr. Don occurred in the summer of 1987. Fr. Arthur H. Jacobi, Jr., who took the pastorale of Holy Cross, brought lengthy business experience to his new duties. A former Director of Training and Personnel for Kresge, he held a Master's Degree in Education and Business Administration and later received a Master's in Religious Education and a Doctorate in Administration and Ministry.
Fr. Art could be called a "get things done yesterday" type of person. In his first six months at Holy Cross, he cleaned out decades of stored material (mostly desks) from the church and rectory basements; put a new roof on the church and a roof and new windows throughout the rectory; sand blasted the rectory brick; started the complete restoration of the church including the repairs earmarked in 1985. A $250,000 goal was sent for the Restoration Fund.
In 1988, aggressive fund raising was pursued for school financing. An appeal was made to all Holy Cross alumni. A new method was established to collect tuition money. Various fund raising activities continued or were begun including monthly pancake breakfasts, an I CARE raffle, dances, an annual craft show, the sale of Christmas ornaments, citrus fruit, fruitcakes and flowers. The K of C contribution of bingo funds for the year was $8,787.
In 1989, Fr. Art obtained a one-time $125,000 grant from the Archdiocese and a $120,000 interest free loan to keep the high school open. Both schools had lost 150 students in three years and there was a $62,000 deficit in high school operation.
By 1990, an offer from Cardinal Mooney High School to lease the parish building had to be weighed against rising costs. The Parish Council agreed to a 2 year lease under which the parish would provide utilities and subsidize tuition costs for Holy Cross High School students who wished to continue in the Cardinal Mooney facility. The 1990 graduating class was the last from Holy Cross High School. Late in 1990, work commissioned by the Restoration Committee had been mostly completed. 90 pledges for the fund were still to be paid.
Cardinal Mooney supporters made a 20 year commitment to remain in the parish high school building. They also offered a $500,000 pledge to be spread over 10 years for the development of the long discussed parish gym and activity building. Archbishop Maida approved the project. The architect completed plans for the building in early 1991. By May, fund raising for a $ 1,500,000 project began. Ground was broken in September and the building was completed in 1992.
When Fr. Art was reassigned in September, 1992, $389,358 had been paid out of the Restoration Fund. Interest and additional costs had raised the total needed for the Activity Building to over $2,000,000.
Compiled by Agnes Griffor, March 1993
Holy Cross Church, 2007 – present. Our three parishes of Holy Cross, St. Catherine of Alexandria and St. Mark officially merged on March 6, 2007, to become Our Lady on the River Parish, with the three locations of Holy Cross Church, St. Catherine of Alexandria Church and St. Mark Chapel.
History of St. Mark Church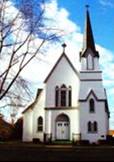 During the Civil War and the years of rebuilding that followed, Fr. Aioyslus Lambent regularly visited the French in and around what is now Algonac. By 1888 there were 29 Missions registered in the Catholic Directory. On the St. Clair River there were two of them St Catherine, Algonac and a Mission of the Holy Cross In Marine City.
It was in 1869 that Fr. Lambert built a church on St Clair Blvd. in Algonac, Michigan. He named It St. Catherine' – He continued to visit Algonac regularly, but no resident pastor was appointed until 1894 when Fr. Francis Kemper took over. On November 3, 1895 the church on St. Clair Blvd. burned to the ground. Fr. Benoit Gear (pronounced Ben-wah Jerry) who succeeded Fr. Kemper started construction on a new St. Catherine Church on Fruit Street. Fr. fiery continued at St. Catherine until Easter 1924.
On June 1, 1887, land on the South Channel of the St. Clair River was purchased from William C. and Patricia A Bennett by Peter Dederich, A.F. Fisher and Ferdinand Kuhn as a site for a church. Permission was granted by Bishop John B. Foley to erect a church which would be a mission of St. Catherine, Algonac. This church was to be called St. Mark after the man known to be a friend of St. Peter who subsequently became "Mark the Evangelist". The first service was held in July 1897. While Pastor of St. Catherine Church, Fr. Gory took on the additional duties of ministering to St. Mark, Mission of St. Catherine, Harsens Island, and remained Pastor there for 27 years.
Prior to Fr. Gory's pastoral duties on Harsens Island, the Harsen family attempted to bring a religious atmosphere to their home. In 1800 a missionary on his way to Mackinac island, while becalmed on lake St. Clair, found himself the object of Harsen's attentions. They rowed out to meet him but were unable to convince the missionary to stay.
In the early days of St. Mark By-The-Sea, as it was affectionately known, people came to Mass by boat or chartered a tug. The tug would bring the faithful to a point in front of the Church where a scow was anchored. The scow would be loaded and maneuvered to shore by hand where everyone would get off and attend Mass. Some hardy souls came in their own boat but the docking facilities were woefully inadequate and their boats would get buffeted about by the waves. In 1926 a new dock was built in front of the present church. When the Island Road became a reality the need for coming to church in a boat became obsolete and the dock was finally abandoned.
In 1935 St. Mark Church almost became a memory. The government proposed to straighten out the South Channel of the St. Clair River to make it easier for ships to navigate the Channel. This would have taken all of the property that St. Mark occupied. At the instigation of A.J. Saxer from Cleveland, who along with his mother owned a summer home on Harsens Island, a great hue and cry ensued. The St. Clair Flats and Harsens Island Improvement Association began a vast letter writing campaign and the plans were subsequently abandoned. Instead the Channel was dredged and St. Mark was saved.
Our original church seated 150 parishioners. It appears that the main part was the bell tower and the part of the current church that goes up to the side additions. In 1923 the church was extended to the back of the present altar. This increased the capacity to 250. In 1929 the two side wings were added which gave us room for 450 parishioners. In 1948 a new heating system was installed and the back, behind the altar, was made larger to accommodate lt. New bathrooms were added and the area on each side of the altar was changed to its present appearance. Much of the original wood can still be seen inside the church. The stained glass windows were added during the third renovation and were memorials donated by members of the parish. Some of these memorials were for members of families that were original settlers of Harsens Island. Their descendants can still be found in and around the area.
It was in March of 1972 that Charles Hasse wrote to Bishop Thomas J. Gumbleton requesting that St. Mark be raised to parish status. With Fr. Lederman's help and a concentrated effort by the parishioners who wrote many letters to Bishop Gumbleton, St. Mark finally reached its goal and In November of 1974 became a full parish. Fr. Paul Lederman was assigned to be our first pastor. He served here part-time being assigned to the Archdiocese to work on the tribunal three days a week. While Fr. Peter VanderLinden was our Pastor we acquired two summer missions: The Old Club and Club Island.
Under the leadership of Fr. Peter VanderLinden our present rectory was built adjacent to the church. St Mark Church Prior to this time the priests who helped us at St. Mark stayed in the home owned by the parish on Donald Street, behind the Post Office. In 1983, while Fr. James Wysocki was administrator we put the first addition on the rectory called "The Family Room". We added four classrooms to this addition in 1993.
St. Mark Church is known all over the country. To some perhaps, it is just a landmark to be noted with interest as they get a fleeting glimpse of it while sailing up and down the St Clair River, but to many It is a "Heart" mark with memories of children's choirs, marriages, baptisms, parish picnics, dinners and friends made and lost.
History of St. Catherine Church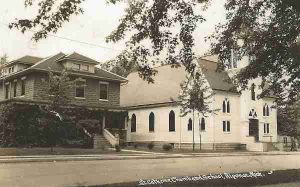 Algonac, as a Mission of Marine City, is mentioned in the Catholic Directory of 1873. It was one of 29 missions established between 1870 and 1888. The French inhabitants of the settlement had been regularly visited much earlier by Father Aloysius Lambert and the deed of the church property is dated September 4, 1866.
Three years later, Father Lambert erected the first church on St. Clair Boulevard. No resident pastor was appointed until 1894, when Father Francis Kemper as appointed. The church burned to the ground on November 30, 1895. Father Benoit Gery succeeded Father Kemper and immediately began building a Church on the corner of Fruit Street. Father Gery's pastorate continued until Easter, 1924.
Father Walter Hardy became pastor until 1934 and was followed by Father John Sullivan. He remained in Algonac until 1942 when Father James J. O'Mara took over. Under Father O' Mara, the first parish school and convent was built in 1951, and the new church was erected on St. Clair Boulevard in 1959. Father O' Mara retired in 1965. Father Cyril Keating was pastor from 1965 until his retirement in 1978. In 1970 the school was closed.
Father Raymond Donahue followed Father Keating from 1978 until 1994. The school was re-opened in 1980 and the Activity Center was built in the early 1990's.
St. Catherine Church celebrated its 100th Anniversary June 12, 1994, with Cardinal Adam Maida as the main celebrant, assisted by Father Donahue and Father Daniel Bogus. The Centennial Banner, designed by Father Donahue and created by Virginia Hoffman, hangs in the main vestibule of the church.
The Centennial Cross, built by Dan Ameel, James Smith and Don Schweihofer, has been erected on the lawn of the Activity Center.
Father Leo Broderick was pastor from 1994 until 1998 when Father Douglas Bignall arrived. Father Bignall has overseen a capital campaign, "Restore the Dream, Prepare for the Next Century" which will enable the Parish to work on needed renovations and expansions.
Father Bignall was replaced by Father Timothy Birney in October, 2004. Father James Lopez followed Father Birney in July, 2007.