K of C Wednesday Night Bingo!!
Location: Activity Center at St. Catherine Church
Time:  Doors Open at 5:00 pm Play Begins at 7:00 pm
Proceeds support Holy Cross School & other charities!!!
Bring Some Friends and join us for a fun evening!!
Pop Up Pantry Free Food Give Away!
Friday, September 20th
1:30 pm @Downriver Helping Hands
310 South Parker Street Marine City
Bring Bags, Boxes or Carts to carry your food
First come, first serve! Limited supply!
Brought to you by FOOD BANK of Eastern Michigan
Scripture Study with Fr. Lapeyre!
In an upcoming directed study we will also be exploring the story of how and why God loves us so much! Starting this September 26th … we will begin a bible study for anyone who is interested. Unlocking the Mystery of the Bible is a powerful study tool to help you know more about God's word to us, and how to understand it. It will be an eight week session study, meeting on a biweekly basis. Since it requires a study book, we will need people to register to get one, if they want to make use of the study materials. The workbook costs $20.00. Please register by calling the Parish Office at 810-765-3568 if you wish to attend.
We the people of Our Lady on the River Parish state in a common voice that we are a united Catholic community, bringing together three unique sites, each one being essential to the whole.
We welcome all people into our community. We support the human and spiritual needs of each person with dignity, which strengthens our bond as members of one Body sustained by the Eucharist.
Guided by the Holy Spirit, we commit ourselves to the formation in our Catholic faith at all ages. We will provide a deep and firm foundation for our youth through Catholic education and good example.
We reach out to the greater community through our acts of service and prayer through the intercession of Mary, our Blessed Mother.

Check out the Bulletin for More!
Need something put in the Bulletin?
EMAIL: bulletin@ourladyontheriver.net
DEADLINE: Ten days prior to publication
Holy Cross Catholic School
PH: 810-765-3591           FAX: 810-765-9074
www.HolyCrossOnline.net
Mrs. Betsy Davenport, Principal
Cardinal Mooney Catholic High School
PH: 810-765-8825         FAX: 810-765-7164
www.cardinalmooney.org
Mr. David Evans, Principal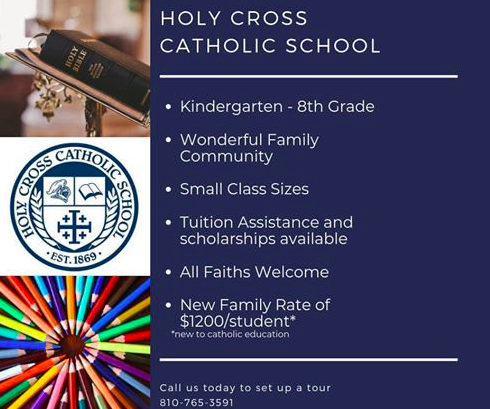 From the Desk of the Principal
This week, our 3rd-6th graders visited the Detroit Zoo to learn about animal needs. They had the unique opportunity to experience the Learning Lab at the zoo. During this time, our students rotated through activity stations to weigh out a sample gorilla breakfast, practiced how some animals use tools to get their food, predicted and ran trials on how much space an animal needs, explored how some animals breathe, and saw how clean drinking water is provided to animals in a variety of habitats. They were blessed with exceptional weather to round out this day of learning outside their classrooms and to make meaningful connections to what they learn in science!
Betsy Davenport
Principal