Advent Bible Reflection Group at St. Mark Chapel
You are invited to join us at St. Mark Chapel for discussion and reflection on the Sunday Readings for Advent. The weekly gatherings will follow the 9:00 am Communion Service and begin at 9:30 am in the community center, concluding around 11:15 am. The four weekly sessions will break open the rich Sunday Readings provided by the Church during this holy season and include prayer, Bible reading with small group discussion and refreshments. The session dates are: Tuesday, November 26th and Thursdays, December 5th, 12th and 19th. All parishioners are invited. For more information and to let us know you are coming, please call Jane at 586-612-9351.
We the people of Our Lady on the River Parish state in a common voice that we are a united Catholic community, bringing together three unique sites, each one being essential to the whole.
We welcome all people into our community. We support the human and spiritual needs of each person with dignity, which strengthens our bond as members of one Body sustained by the Eucharist.
Guided by the Holy Spirit, we commit ourselves to the formation in our Catholic faith at all ages. We will provide a deep and firm foundation for our youth through Catholic education and good example.
We reach out to the greater community through our acts of service and prayer through the intercession of Mary, our Blessed Mother.

Check out the Bulletin for More!
Need something put in the Bulletin?
EMAIL: bulletin@ourladyontheriver.net
DEADLINE: Ten days prior to publication
Holy Cross Catholic School
618 S Water St
Marine City, MI 48039
PH: 810-765-3591           FAX: 810-765-9074
www.HolyCrossOnline.net
Mrs. Betsy Davenport, Principal
Cardinal Mooney Catholic High School
660 S Water St
Marine City, MI 48039
PH: 810-765-8825         FAX: 810-765-7164
www.cardinalmooney.org
Mr. David Evans, Principal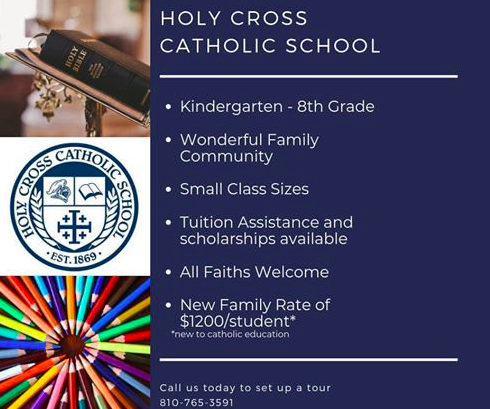 From the Desk of the Principal
Collossians 3:17 says, "And whatever you do, whether in word or deed, do it all in the name of the Lord Jesus, giving thanks to God the Father through him." This is the week we reflect upon all of the blessings we are thankful for. When I personally reflect upon my blessings, at the top of my list is always: faith, family, friends, and freedom. Being the parent of two children in Catholic school, an educator in Catholic school, and now an administrator in Catholic school, I am incredibly thankful for the blessings of a Catholic education. I am humbled and incredibly appreciative of our parish's support for Holy Cross Catholic School. A Catholic education is special because we can educate the whole child without boundaries. Being able to incorporate our faith all day, everyday is an incredible gift to our children. Jesus is an evident presence in our halls, in our classrooms, and in our childs' hearts. For that, I am deeply thankful and I know our school staff and families are as well.
Betsy Davenport, Principal
Why Holy Cross?
 A Catholic education focusing on educating the WHOLE child – academically, socially, and spiritually.
State certified and highly qualified teachers.
The opportunity for dual enrollment for 7th and 8th grade students at Cardinal Mooney in math and foreign language.
74% of graduating 8th graders are ABOVE grade level in reading.
School safety is a top priority. All exterior doors are locked with 24-hour camera surveillance.
Background checks on all staff and volunteers, and all teachers are trained in CPR/First Aid and A.L.IC.E.
Leadership opportunities for students: National Junior Honor Society, Student Leadership Council, drama, youth choir, and a comprehensive sports program that includes volleyball, basketball, cross country, cheerleading, and track.
Fluid academic schedule where qualifying students take classes in math and reading at  a grade above their grade level.
Academic Success program – a full-time certified teacher, specializing in intervention, available to students that need a little more support to be successful.
When families are asked what they love about our school, the response heard most is "the community."
An introductory rate of just $1200 per student for families new to a Catholic education.
A welcoming community for all families.
New families may apply any time of year.
Betsy Davenport
Principal