What Ministry is God Calling you to do?
At Mass, we are able to stand mystically at the foot of the cross and witness for ourselves the same self-sacrifice of Jesus. Mass is a celebration of this sacrifice. It is the active participation of all that come together in the place of worship. We do not come to Mass simply to receive something passively or to watch a show; we come as participants embracing the grace Christ pours out for us shed by his own blood on the cross.
In the first part of the Mass we receive God in His word, and in the second part we receive God, through Jesus, in body, blood, soul and divinity. We receive God in the Eucharist.
This is where YOU come in! We are in need of Altar Servers (youth and adult), Lectors, Commentators, Extra-Ordinary Ministers of Holy Communion (EMHC) and Sacristans. We need YOUR assistance … please pray on how the Holy Spirit is calling you to participate at the Holy Mass.
New Opportunity for Bereavement Ministers
Because of our baptismal promises each Catholic is to aid with burying the dead, and comforting/consoling those who have lost loved ones. Funeral Liturgies can be a powerful way to support families during this difficult time and can help evangelize and encourage others to return to the practice of their faith. If interested in assisting the parish and those who mourn, please come to the training. Monday, November 18th, 6:30 pm in the Activity Center at Holy Cross Church.
"With this in mind, we constantly pray for you, that our God may make you worthy of his calling, and that by his power he may bring to fruition your every desire for goodness and your every deed prompted by faith. We pray this so that the name of our Lord Jesus may be glorified in you, and you in him, according to the grace of our God and the Lord Jesus Christ." (2 Thess. 1:11-12)
Training for New and Current Ministers
Altar Servers (Youth AND Adult):
Saturday, November 16th @ 10:30AM (St. Catherine Church)
Lector and Commentator:
Tuesday, November 19th @ 6:30PM (St. Catherine Church)
Wednesday, November 20th @ 6:30PM (Holy Cross Church)
We the people of Our Lady on the River Parish state in a common voice that we are a united Catholic community, bringing together three unique sites, each one being essential to the whole.
We welcome all people into our community. We support the human and spiritual needs of each person with dignity, which strengthens our bond as members of one Body sustained by the Eucharist.
Guided by the Holy Spirit, we commit ourselves to the formation in our Catholic faith at all ages. We will provide a deep and firm foundation for our youth through Catholic education and good example.
We reach out to the greater community through our acts of service and prayer through the intercession of Mary, our Blessed Mother.

Check out the Bulletin for More!
Need something put in the Bulletin?
EMAIL: bulletin@ourladyontheriver.net
DEADLINE: Ten days prior to publication
Friendsgiving 5K-Tyler Kreilter Memorial Run
A race to honor one runner, and encourage Many Others.
Join us Thanksgiving morning for the 4th annual Friendsgiving 5k and One-Mile – Tyler Kreilter Memorial Run. Great for competitive runners and beginners, and everyone in between. You can run, walk, dance, or crawl your way to the finish line.
Custom Finisher Medals
5-year age group prizes for top male and female in each age group
Top finisher prizes for top male and female
Prize drawings (All pre-registered runners and volunteers are eligible)
One mile race starts at 8:30 am, with the 5k starting at 9:00 am. Start and finish is in downtown Marine City, near the beach. All proceeds from this event go to the Tyler Kreilter Memorial Fund. The Fund provides scholarships and other support for Blue Water area runners.
Holy Cross 3rd Grade Class Pajama Drive!
Mrs. G's third-graders are having a pajama drive!  They are accepting all sizes (Infant-Adult)!  They must be brand-new, full sets, and any season.  For every set of pajamas collected, Scholastic Books Club will donate a book to Pajama Program to give to kids affected by instability.
About Pajama Program
Pajama Program, a national 501(c)(3) nonprofit organization, promotes and supports a comforting bedtime routine for children affected by instability to help them thrive. Pajama Program was founded in 2001 and has delivered more than 6 million good nights for good days. Through its work with its 4,000 community partners, which are community-based organizations across the country that serve children from birth through 18 years, Pajama Program endeavors to create a world where good nights are good days for all children, everywhere.
You can drop off your donation to the school or the parish office!  Donations will be collected until Friday, November 22nd.  Thank you for your support and generosity!
Holy Cross Catholic School
618 S Water St
Marine City, MI 48039
PH: 810-765-3591           FAX: 810-765-9074
www.HolyCrossOnline.net
Mrs. Betsy Davenport, Principal
Cardinal Mooney Catholic High School
660 S Water St
Marine City, MI 48039
PH: 810-765-8825         FAX: 810-765-7164
www.cardinalmooney.org
Mr. David Evans, Principal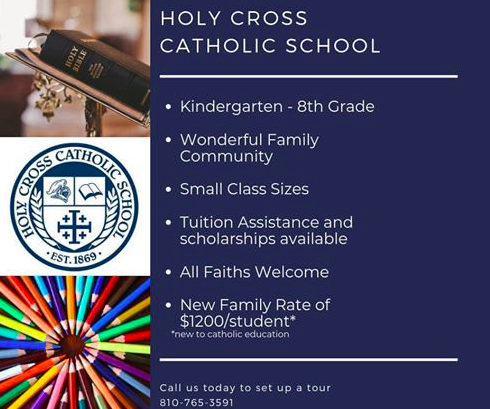 From the Desk of the Principal
Last week I shared the school children joyfully playing in the leaves in our schoolyard. Just one short week later, we had a huge snowfall, resulting in a snow day! I loved receiving texts from our school families sharing the fun the kids were having in the snow! I hope as you read this and look ahead at all the additional snow we will get this season – that you have opportunities to see the blessings in each day through the eyes of a child. We can be so quick to label circumstances as negative and weather is no exception to that. However, God grants each of us blessings every single day. We must keep our eyes open to all the Lord provides and sometimes, though it takes effort, we must recognize the gifts given to us. I love Psalm 24:1 and its relation to this: "The world and all that is in it belong to the Lord; the earth and all that live on it are His." Have a great week!
Betsy Davenport, Principal
Why Holy Cross?
 A Catholic education focusing on educating the WHOLE child – academically, socially, and spiritually.
State certified and highly qualified teachers.
The opportunity for dual enrollment for 7th and 8th grade students at Cardinal Mooney in math and foreign language.
74% of graduating 8th graders are ABOVE grade level in reading.
School safety is a top priority. All exterior doors are locked with 24-hour camera surveillance.
Background checks on all staff and volunteers, and all teachers are trained in CPR/First Aid and A.L.IC.E.
Leadership opportunities for students: National Junior Honor Society, Student Leadership Council, drama, youth choir, and a comprehensive sports program that includes volleyball, basketball, cross country, cheerleading, and track.
Fluid academic schedule where qualifying students take classes in math and reading at  a grade above their grade level.
Academic Success program – a full-time certified teacher, specializing in intervention, available to students that need a little more support to be successful.
When families are asked what they love about our school, the response heard most is "the community."
An introductory rate of just $1200 per student for families new to a Catholic education.
A welcoming community for all families.
New families may apply any time of year.
Betsy Davenport
Principal