K of C Wednesday Night Bingo!!
Location: Activity Center at St. Catherine Church
Time:  Doors Open at 5:00 pm Play Begins at 7:00 pm
Proceeds support Holy Cross School & other charities!!!
Bring Some Friends and join us for a fun evening!!
Volunteers Needed for OLR Parish 48th Annual Harvest Dinner
Check out the "Events" page for volunteer opportunities!!!
Sign-up sheets are available in the back of Church!!
We still need plenty of volunteers to help out in the dining room!!! PLEASE call the Parish Office for time slots!!!!
810-765-3568
Everyone is welcome and appreciated!!!
Scripture Study with Fr. Lapeyre!
 Unlocking the Mystery of the Bible is a powerful study tool to help you know more about God's word to us, and how to understand it. It will be an eight week  study, meeting on a biweekly basis. Since it requires a study book, we will need people to register to get one, if they want to make use of the study materials. The workbook costs $20.00. Please register by calling the Parish Office at 810-765-3568 if you wish to attend.
We the people of Our Lady on the River Parish state in a common voice that we are a united Catholic community, bringing together three unique sites, each one being essential to the whole.
We welcome all people into our community. We support the human and spiritual needs of each person with dignity, which strengthens our bond as members of one Body sustained by the Eucharist.
Guided by the Holy Spirit, we commit ourselves to the formation in our Catholic faith at all ages. We will provide a deep and firm foundation for our youth through Catholic education and good example.
We reach out to the greater community through our acts of service and prayer through the intercession of Mary, our Blessed Mother.

Check out the Bulletin for More!
Need something put in the Bulletin?
EMAIL: bulletin@ourladyontheriver.net
DEADLINE: Ten days prior to publication
Holy Cross Catholic School
PH: 810-765-3591           FAX: 810-765-9074
www.HolyCrossOnline.net
Mrs. Betsy Davenport, Principal
Cardinal Mooney Catholic High School
PH: 810-765-8825         FAX: 810-765-7164
www.cardinalmooney.org
Mr. David Evans, Principal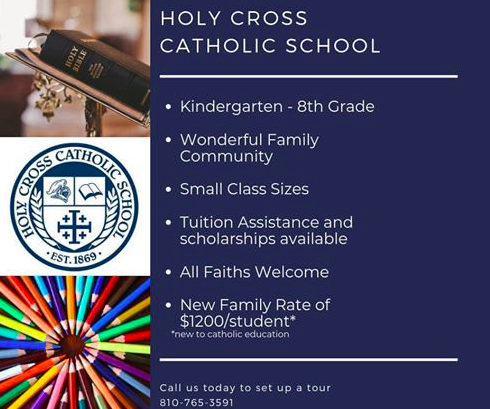 From the Desk of the Principal
Our cross country and volleyball seasons are coming to an end soon. Both teams have made us incredibly proud! The cross country team cheers for one another week after week. They encourage one another to push through to be their personal best, supporting one another. The Lady Crusaders' volleyball team work together continually improving and building their teamwork. They work hard at their practices to strengthen their skills and they complement one another very well. We are all proud of your sportsmanship Crusaders!
Betsy Davenport
Principal